Here's my 'behind the scenes' report – and photos — from my appearance on NBC's Baby Borrowers' Town Hall Meeting, which will air Wednesday, August 6, at 9 pm. The objective of the show was to discuss the ethics of The Baby Borrowers, reunite the cast, as well as unpack some of the issues about the show. That's where I came in.
I was on in one segment — the third segment of the show — about how the media impacts teens' attitudes about sex. As NBC reporter Josh Mankiewicz pointed out in the taped package that preceded our segment, news venues usually want to take the easy way out by blaming teen pregnancy on Jamie Lynn Spears and Juno.  It was great to be part of a segment that was intended to debunk the myth that JLS affected teens' sex choices. (For more of my thoughts on this topic, read my article about "America's Glamorization of Pregnant Sixteen Year Olds.") 
The segment was hosted by Hode Kotbe, and also appearing in the segment was the executive producer of The Baby Borrowers. I appeared along side the delightful Paula Froelich best known as the Page Six gossip columnist, and the extraordinary Sarah Brown, the CEO of The National Campaign to Prevent Teen and Unplanned Pregnancy. They were excellent, and I was honored to share the stage with them.
The "stage" by the way, was actually Conan O'Brien's stage, since we filmed this show in the Late Night with Conan O'Brien studio, 6A. (It was my third time there. The first time was when I was on Conan's show. The second, I was at NBC appearing on another show, and I was invited to sit in on a closed rehearsal/pre-taping of Conan's show. Very cool: He strummed his guitar between takes.) When we taped the Baby Borrowers' show, Conan was not around, of course, but all of the costumes that his cast members wear for skits and the suits that the band members wear were hanging on rolling racks lining the hallway. I saw one of the "Baby Borrowers" attempting to put on the Late Night ape suit! Didn't snap a photo of that, but here are pix of some of the "cast" of NBC's Baby Borrowers' Town Hall Meeting.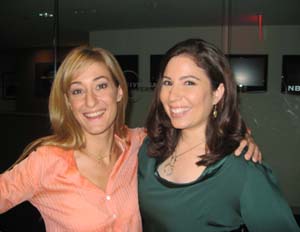 Dr. Sari Locker with Paula Froelich, Page Six columnist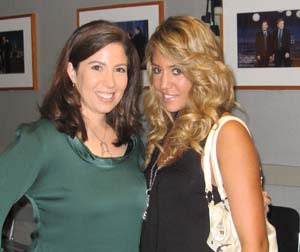 with Morgan, "Baby Borrower"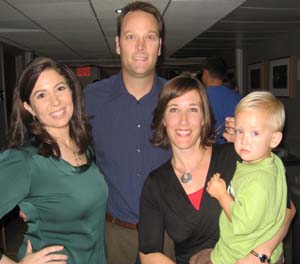 with "Baby Lenders"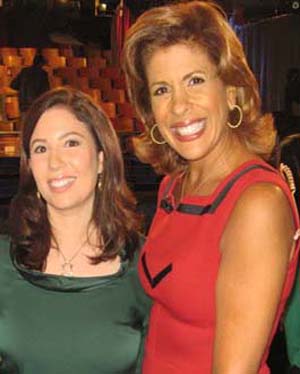 with Hode Kotb
Posted by Dr. Sari Locker
Tags: Baby Borrowers, Dr. Sari Locker, NBC, Sari Locker, sex educator, sexologist, Television