In addition to telling me that there was no "pregnancy pact," they also told me that there was no "homeless guy" impregnating the girls of Gloucester.
I recently talked to two pregnant teenagers from Gloucester, MA and the mother of one of the girls (who had also been a teen mother). We discussed their sex ed, sexual choices, and their feelings about being pregnant (and in the public eye). I also asked about the babies' fathers… and THE question that many had wanted answered, but no one seemed to have asked. Yes, I asked about the "24-year-old homeless guy." 
You surely remember the Time magazine article that claimed that teens were trying to get pregnant as part of a "pregnancy pact" at Gloucester High School (GHS). In it, the principal was quoted as saying that they, "found out one of the fathers is a 24-year-old homeless guy." Well, the pregnant girls from Gloucester who I met told me that they were not trying to have babies, and they were not seeking out random men to impregnate them. They had boyfriends their age, and their pregnancies occurred because they didn't use birth control — not because they wanted babies. They did not understand how the "homeless guy" rumor got started, or why the principal would have stated it to a reporter. They said very definitively that the other girls in their school also got pregnant "by mistake" from boys their age –  boyfriends, not homeless men.  Also noteworthy, they confirmed that some of the 18 pregnant girls have gotten abortions. 
Of course, I must emphasize that I am reporting what two pregnant Gloucester teens told me. I did not talk to all 18 girls, and no one will truly know who got pregnant from whom and why, except each of girls who got pregnant and the guys who got them pregnant.
The press latched on to the "pregnancy pact" story because America loves a "shocking teen sex story." The reality of the Gloucester pregnancies may be far more mundane, but no less troubling. One of the Gloucester girls told me that she, "didn't think that pregnancy would happen," to her. She said that she knew about birth control, but she and her boyfriend didn't think they needed to "bother with it" — even though they did not want a baby. It's that type of denial that is often at the root of teen pregnancy. Other reasons commonly cited for why teens get pregnant include: perpetuating a cycle of teen motherhood when their parents had them as a teen; when parents do not encourage them to wait or don't teach them any values about sex; and when the teen does not have future goals, dreams or aspirations to provide an incentive for why they would want to delay pregnancy until much later in their lives. The girls from Gloucester who I spoke with fit these models.
Will there be a chance to focus the media's attention on the realities at Gloucester High School? Is there hope that Gloucester can teach teens to wait to have sex and to use birth control when they have sex? Gloucester is a small, predominately Catholic, blue-collar community that seems reluctant to help teens get birth control and learn how and why to use it. The town is organizing "listening posts" to get the community talking about teen pregnancy, but they are not planning to get teens and their parents together to talk about values about sex. It is imperative that parents and teens discuss these issues. If GHS would let me facilitate these conversations, you know I would. Though now the school is not open to having a sex educator visit (especially one who works on television). In fact, there have been many health educators who have recently advised GHS about how to provide access for their students to contraception and how to implement comprehensive sex education, but they have yet to begin these programs. (GHS curently offers sex ed to freshman, but it is not a comprehensive course, and is not offered after freshman year.) To understand some of the reaction to these issues in Gloucester, check out their local paper, including the recent editorial written by the school track coach, in which he equates condom distribution to giving drugs or "alcoholic beverages to the students, and… a "safe" place to booze it up, such as in the high school field house."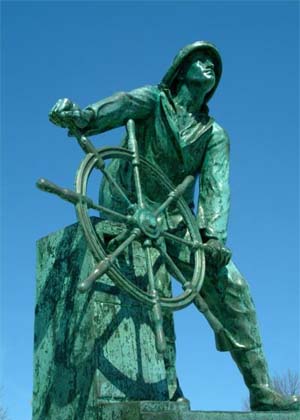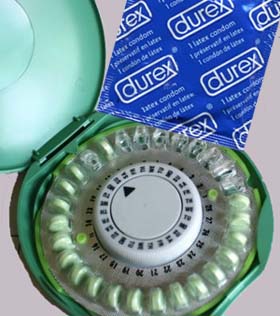 The Gloucester Fisherman, and effective birth control.
Posted by Dr. Sari Locker