Facts of Life: SARI LOCKER is talking sex to the X-ers
People Magazine, November 13, 1995
"To The Top" Section
SEX EXPERT SARI LOCKER is talking sex to the X-ers
by Peter Castro
SARI LOCKER is having a typically busy day for a rising, media-savvy sex expert. Still wearing the makeup from an interview she taped for NBC Nightly News on "stopping the fear of AIDS," Locker, 25, a generation-X version of Dr. Ruth Westheimer ("except I'm taller," she says, "and not a caricature"), calls her publicist to confirm an appearance on Conan O'Brien's show the next day. Afterward, Locker, who has always dreamed of being a TV host, peers into the aquarium she keeps in her two-bedroom Manhattan apartment. "I named all my fish after talk show hosts," she says. "The catfish with the mustache is Geraldo and the two orange fish are Regis and Kathie Lee because they're so obnoxiously bright."
If all goes according to Locker's carefully laid plans, she too will soon be swimming with the big fish. At the moment, at least, she's up to her gills in projects. First, there is her new book, Mindblowing Sex in the Real World, an advice manual aimed at young adults. Then there are the sex workshops she holds at high schools and colleges around the country that reach thousands. This month, Locker, who has been on 50 talk shows in the past three years, has a 12:30 a.m. berth of her own on Lifetime cable's Late Date with Sari, a show strictly about sex in the '90s. "I'm a sex educator, not a therapist," she says. "My goal is to make people feel comfortable with their own sexuality. When I was fielding offers for a show, most channels wanted a titillating program, but I wanted a forum where I could talk intelligently about sex-related issues." According to Dr. Christine Wheeler, a sex educator, Locker's delivery is also accessible. "Sari takes very complex material," she says, "but speaks about it in a very light, accurate way."
Many of those issues involve her own peer group: confused twentysomethings. "This generation has had a more complicated education about sex than any previous one," says Locker. "It's the first generation that grew up with AIDS and the politics of date rape and sexual harassment. Men and women my age discuss sexual politics more than they discuss sex. If a woman goes on a date, rather than thinking, 'I want to make out with this guy, should I invite him to my room?' she might think, 'If I invite him to my room, will he date-rape me?' "
Of course, being a single sexpert can be challenging. "A quarter of the guys I date are intimidated by me, a quarter react normally, a quarter want to sleep with me because they think I'll be wild, and the rest have a problem they need to tell me," says Locker. "A man is right for me when we enrich each other's lives. That doesn't include solving his sexual problems."
Locker was born in suburban Nyack, N.Y., and raised Fort Lauderdale. Her mother, she says, always answered her precocious sexual questions frankly. At 14, Locker was raising dogs, hamsters and birds as a hobby and considering a career in animal science. At 16, she enrolled at Cornell University, where she majored in educational psychology. "Sari was concerned with Cornell students forgetting about safe sex practices, so she would stand on campus with a microphone and speak out on sex education," remembers her friend Daniel Kaufman. "I've never met anyone so driven."
Locker went on to earn a Masters in human sexuality education at the University of Pennsylvania. After graduating in 1992, she promptly hit the talk show circuit. She also landed a slot on New York City's WBAI radio, where for two years she advised sexually bewildered listeners weekly. "Sari always enjoyed teaching," says her mother, Molly. "A few years ago during a big Thanksgiving dinner, in front of my 79-year-old father, Sari took a banana and a condom and taught us how to apply it. We were delighted but dumbfounded."
Heading home from taping Late Date with Sari, Locker, again wearing TV makeup she didn't have time to remove, marvels at her good fortune. "I'm exceedingly happy," she says. "I started teaching about sex because I wanted to help people. And because I believe people learn about sex from television, I wanted to teach them where they learn. No one should ever be dissatisfied with their sex life."
SARI LOCKER ON SEX
Sari on Sex
If you really want a relationship, a one-night stand is not the way to go. That's why they call it one night.
Sex doesn't guarantee love, commitment or even a phone call.
The problem in many relationships is that people make a commitment to a partner with whom they are not truly are compatible with.
Though it hurts when you make a mistake in a relationship, it helps make the next relationship even better.
Although condoms have been thought of as barriers to good sex, they're truly only barriers to diseases. Don't risk your health or life.
Tell your lover exactly what you want. It's the best way to get it.
If it's broken, fix it. Get into sex therapy if necessary. There is no reason to go through life having sexual problems.
Photo Caption: "I began teaching because I felt there was a need to have more sex educators," says Locker (giving instruction at a sexuality workshop in Manhattan last spring). "I especially wanted to help teenagers decide when to have sex and how to have sex."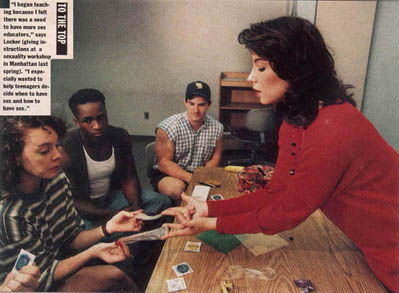 Sexologist Sari Locker