Speaking Engagements
Sex Education Speaker Dr. Sari Locker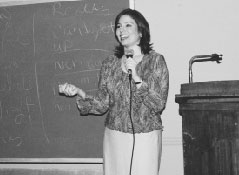 Dr. Sari Locker is highly sought after for her acclaimed sexuality lectures and presentations. She informs and enlightens with dynamic programs that get audiences talking. By presenting solid sex and relationship information mixed with her entertaining, exciting style, Dr. Locker encourages audiences to think about sexuality in ways that will improve their happiness, health and relationships.
Dr. Locker began presenting lectures about sex and relationships all around the country in 1988. In the past few years, she has spoken to thousands of college students, including a packed auditorium of 400 students at Harvard University and a sold out crowd of over 700 students at Cornell University, as well as at many other colleges in CA, CO, CT, MA, NJ, and NY (partial list below). She has also presented at major organizations, such as the National Speakers' Bureau, the Young Presidents' Organization, the National Association for Campus Activities, the Society for the Scientific Study of Sexuality, the American Association of Sexuality Educators, Counselors and Therapists, and the 92nd Street Y. She is currently accepting bookings for college lectures, professional presentations, and corporate meetings for 2016.
Dr. Locker will customize any presentation to your group's specific needs at any colleges, high schools, conferences, community events, and corporate meetings. She will speak to groups of any size, and has worked with small groups of a dozen people to large audiences of 2,500 students, and everything in between.
Selected Topics
Myths and Realities of Sexuality
Improving Sexual Pleasure
Sex in the Media, Politics and Pop Culture
Sexy Safer Sex and STI/HIV Prevention
Sexual Decision Making
Relationships and Love
Gender: Men and Women Relating Better
Talking to Teens about Dating and Sex
She has lectured at the following, and more:
Univ. of Southern California, Los Angeles, CA; Harvard University, Cambridge MA; New York University, NY, NY; Tulane University, New Orleans, LA; Yale University, New Haven, CT; University of Pennsylvania, Phila, PA; Keystone College, La Plume, PA; Pace University, New York; Lebanon Valley College, Annville, PA; Randolph-Macon College, Ashland, VA; Bentley College, Waltham, MA; Wake Forest University, Greenboro, N.C.; Women's Health Expo, Minneapolis, MN; Dutchess County Community College, Poukeepsie, NY; The 92nd Street Y, New York, NY; Rutgers College, New Brunswich, New Jersey; The UJA, United Jewish Appeal, New York, NY; Central Methodist College, Fayetteville, MO; Valparaiso University, Valparaiso, Indiana; Florida International University, Miami, Florida; University of Toronto, Toronto, Canada; Guelph University, Guelph, Canada; Loyola Jesuit College, Stevens Institute of Technology, New Orleans, LA; University of New Orleans, New Orleans, LA; University of California, Los Angeles, CA; Temple University, Phila., PA; Cornell University, Ithaca, NY, and more.