For years, I've gotten e-mails (and in the '90s, letters!) asking me about my shoes. Sometimes the e-mails are written by guys with foot fetishes; mostly they are from women, as in the cute e-mail I got today:
Message:  Dear Sari, I am writing a paper about alcohol abuse during spring break, and I watched you in an online video talking to Katie Couric about this. I think you made a good point about how parents underestimate the behavior that their college-age-children may have when they are drunk, because they haven't ever seen them drunk. By the way, I am really writing to ask you: Who made those shoes? I think they might look good with something I am going to wear to a wedding next weekend. I would like to get them if you can tell me who they are by. I know you must be busy, but please write back to let me know about the shoes. I have to get my paper done, but all I can think about is those shoes. Thank you, from one shoe lover to another.
My reply: Betsey Johnson. Good luck with your paper.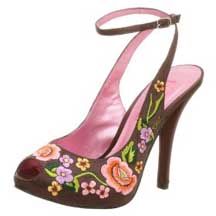 For anyone who wants to see the video, here's the link. You can see the tell-tale Betsey Johnson hot pink soles. At the very end of the segment, Katie Couric says to me, "Very nice shoes." http://www.truveo.com/More-girls-going-wild-during-spring-break/id/2652156457
Incidentally, I interviewed Betsey Johnson and her daughter Lulu years ago when I worked for WCBS News – a profile piece focusing on their relationship. We shot it at their offices and showroom which is an amazingly gorgeous explosion of color and textures, with lots of pink and feathers. I love her sexy, whimsical, and (sometimes) over-the-top stuff, and having the opportunity to see it in the context of where it is created made me love Betsey and Lulu even more. 
Posted by Dr. Sari Locker